There is a lot of truth in this old saying. You are likely to get a better quality product or service if you pay a little bit more – up to a point. Unfortunately some providers can take things way too far and charge ridiculous prices to those customers who – for whatever reason – are willing to pay them.

At Stone and Chrome we are passionate about quality. We love the quote from Benjamin Franklin shown in the above image – "The bitterness of poor quality remains long after the sweetness of low price is forgotten". We work with all of our customers, whatever their budget, to ensure that they are getting the best possible quality for the price they are prepared to pay.

Here are three areas where quality is really important:
Design
Skilful design is the key to a stunning bathroom. Not only will your professionally designed bathroom be easier to install, it will also be fully functional and will look spectacular. At Stone and Chrome we use the highest quality computer aided design (CAD) software to design every aspect of your new bathroom. You will be able to view 3D images of the room, enabling you to get an accurate idea of exactly how it will look on completion.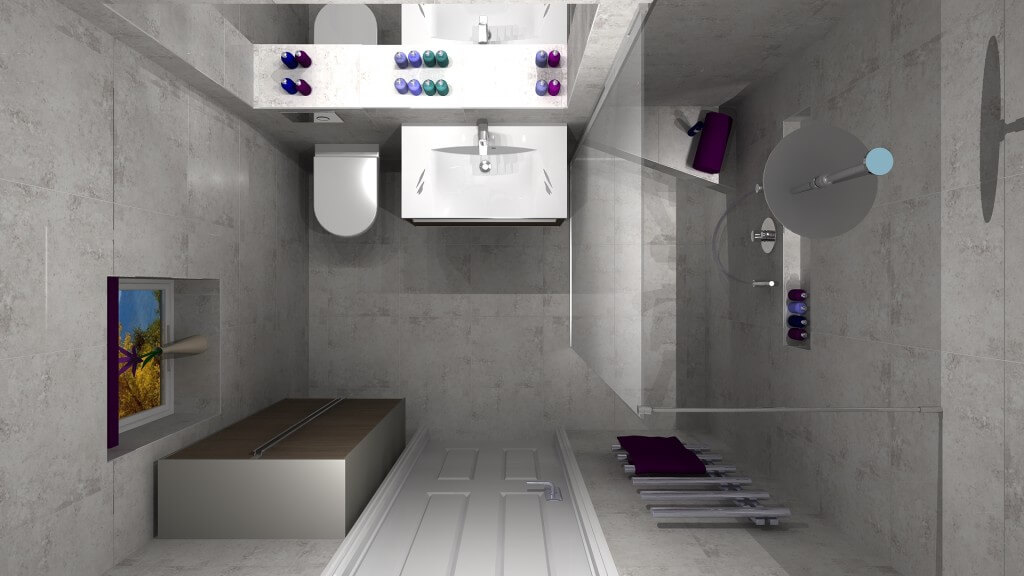 Products

As well as good quality design you also need the best quality products available within your budget. Trying to cut corners will only result in an inferior finish. This is where Stone and Chrome can really help. We supply bathroom products not only from many well-known brands, but also several ranges of not so well-known brands.
We also manufacture our own bespoke range of solid wood bathroom furniture, and love blending our own natural stone products with products from other manufacturers. The example below shows a Finesse Oak vanity unit from Stonearth complemented with our Tundra Grey solid stone surface with undermount basin.
For tiling your new bathroom we love natural stone and have many years' experience in using it in bathrooms. See the example below of a warm and inviting ensuite tiled with our Noce Travertine stone tiles. We also have a carefully selected range of ceramic and porcelain bathroom tiles.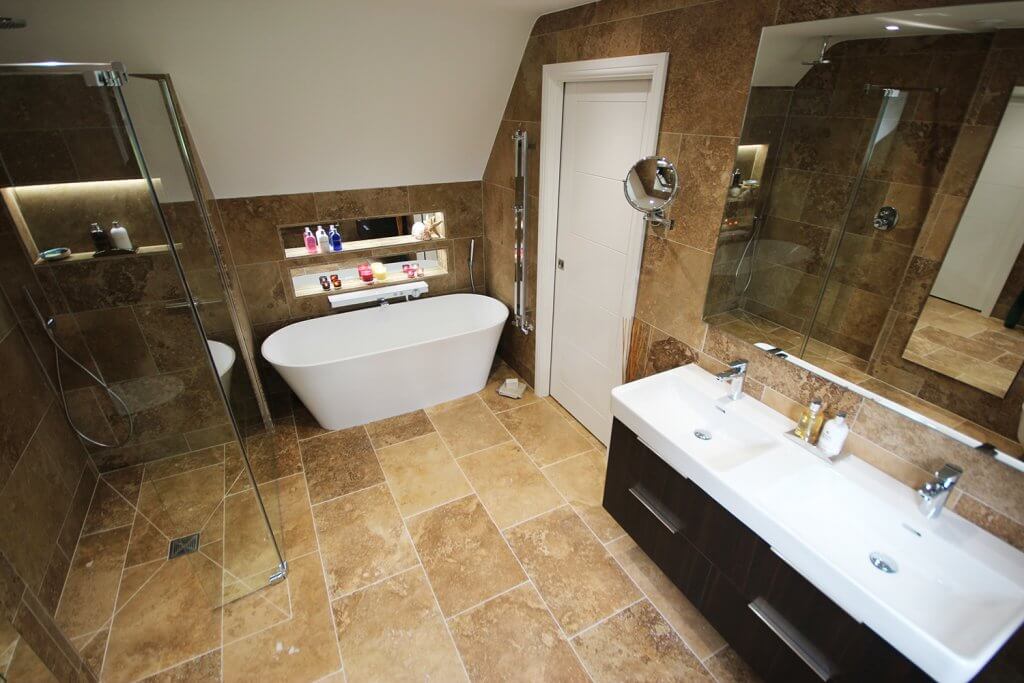 The common factor between all these products is quality. However large or small your budget we can mix and match brands to give you the best for your money. Many products are also available in CAD format so that you can get a realistic view of how your chosen products will look in your bathroom.

Installation

At Stone & Chrome we have over 25 years of experience in bathroom and wetroom installation so you can be assured of the highest standards of service for your bathroom project. We promise that you will be delighted with the exceptionally high standard of our workmanship and our passionate attention to detail in your bathroom and wetroom.

We also take great pride in adding the perfect finishing touches to bathroom designs, for example our trademark recessed storage areas with LED lighting. The example below shows a recent bathroom installation featuring an LED recessed mirror that looks wonderful with pretty bottles and candles.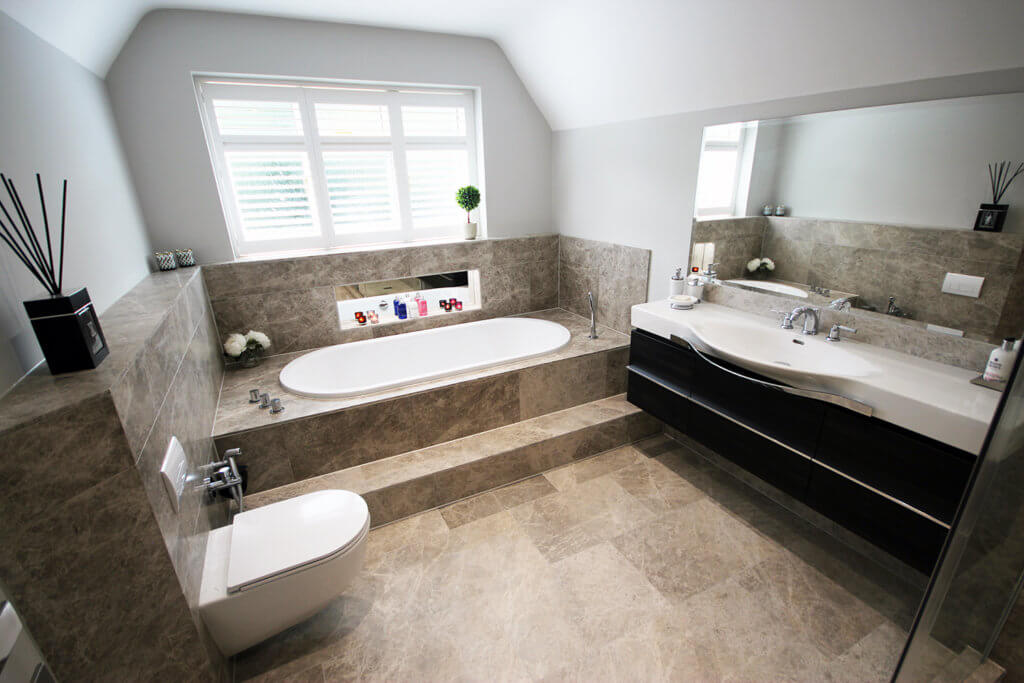 Stone and Chrome kitchens

So far the above philosophies have been applicable only to bathrooms but we are very excited to be expanding into kitchen design, supply and installation this year. It will not be long now before our new kitchen showroom is open and we can't wait to show you round!

Keep an eye on this page and on our Facebook and Twitter feeds for more information, then make sure you get in touch to arrange a visit to our Camberley showroom very soon!