Yes it's that time already! All over the country, parents are rushing around to make sure that everything is ready for Back to School.
Whatever you have been doing this summer, we hope it has been a good one. Many of us dread Back to School because it signifies the end of summer and the return to the daily grind. But others see it as the opportunity for a fresh new start: even more so than New Year.
So this September why not try and get off to a really good start as the children go back to school? Try to establish the good habits that we all know make sense; but are only too easy to drift away from and slide into chaos. But if you make a determined start as you mean to go on, then maybe this year really will be different!
Here are our Golden Rules for getting your Back to School just right!
Make sure you know the date and time to be there
Sounds basic but so many people get this wrong. Double check what day your child needs to be in, and also the time. Bear in mind this can vary for different school years. Don't let your child be "that one who was a day late"!
Double check the uniform and kit list
You still have today to sort this. There is bound to be something you have forgotten or lost: better to find out now than the morning school begins.
Plan your morning schedule
What time do you need to leave to get to school on time? Remember to build in contingency time because sod's law dictates that you will get more than your fair share of traffic lights, roadworks and either car or parking issues.
Then work back from this. How much time do you need for waking up / bathroom / dressing / breakfast / gathering stuff? Then add on a bit more for luck. Then panic when you realise how much earlier you need to get up than you normally do: but that explains why you have been consistently late to school for the past few years!
If you have more than one bathroom you might even want to allocate who goes where to avoid arguments. And if you don't have more than one bathroom then perhaps this autumn is the time to consider that. As well as being a great investment for your home, just think how much easier it is going to make your mornings.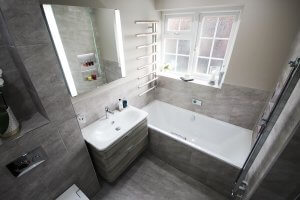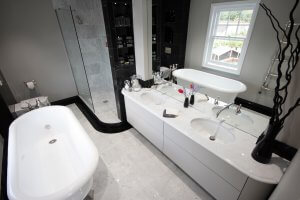 It is worth typing up this plan so that everyone knows what time they are supposed to be doing what. Yes this does sound a bit extreme but it will get everyone into the flow until – fingers crossed – it becomes routine.
Get everything ready the night before
Yes we know this is a bore but it might just shave a bit of time off your morning routine so could result in more sleep. It also avoids that horrible stress in the morning when one child realises they have not done an critical piece of homework and another that the PE kit they need for a vital match is filthy. Not to mention that letter about the school trip that is already three days late and the cake they are supposed to bring in for the charity sale at break.
So get the uniforms laid out the night before, homework and school letters checked, bags all packed and you will be ready to roll the next morning.
A place for everything and everything in its place
Last but not least. The morning routine will be so much easier if everything that is needed to get ready is at hand. This is where Stone and Chrome can help. We can create some stunning bathroom storage solutions for you to ensure that everyone's essential bits and pieces are easy to grab hold of but also snugly stored away so that your bathroom still looks stunning. Many are enhanced by our trademark LED lighting to add that little touch of magic which all the family will love.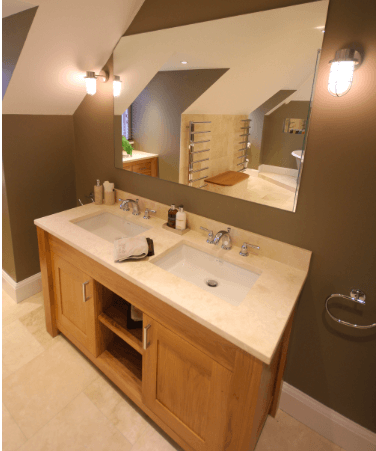 The images above give some ideas of what we can do for you, but to find out more why not come and visit us at our Camberley showroom? We can show you some of our wonderful bathrooms and wetrooms and discuss your needs and requirements in more detail. Now that the kids are off your hands for a while it's the ideal time to start planning something exciting for the autumn.